Spring is here and it's the time where we decide to move home, go on vacation or maybe think about some renovation or building projects. You may even be a small business looking to move premises or for somewhere to store your stock in preparation for the busy Christmas season.
A SELF STORAGE FACILITY is a great way to access extra storage when you need it most and for flexible amounts of time. There are some great benefits to choosing a local storage agent.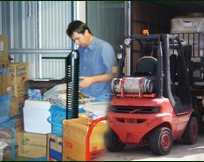 Extra Space If you have a home full of furniture collected over the years or downsized to a smaller apartment but still have valuable pieces you don't want to let go of than a self storage facility could be just what you need. Self storage units from reputable storage agencies keep your valuables safe with 24hr security, dry and protected from the elements and pest infestation.

House moving is one of the most common reasons to use a STORAGE FACILITY. Look for a facility that's easy to access and offers flexible access times.
Stock You may be a small business who needs to store some stock for a period of time. A reputable storage facility will offer you security and flexibility so you can access your stock as and when you need it. Some storage facilities even off a free forklift service and assistance with delivery and dispatch.
The right self storage space can be just as accessible and secure as having an extra storage room in your own home. Look for a storage facility, which offers security, flexibility and the option to upsize or downsize your units as you need them. A good storage specialist can also help provide you with the little extras such as a trailer and packaging supplies. Find out more from the friendly, professional team at HILLS SELF STORAGE.