If you're renting a self storage unit for the first time, it can be tough to estimate how much space you actually need. Choosing the right storage unit will not only help you save money, but also take a lot of stress out of the process. We have come up with a great size guide that easily explains which unit will suit your storage needs best.
Small Sized Self Storage Units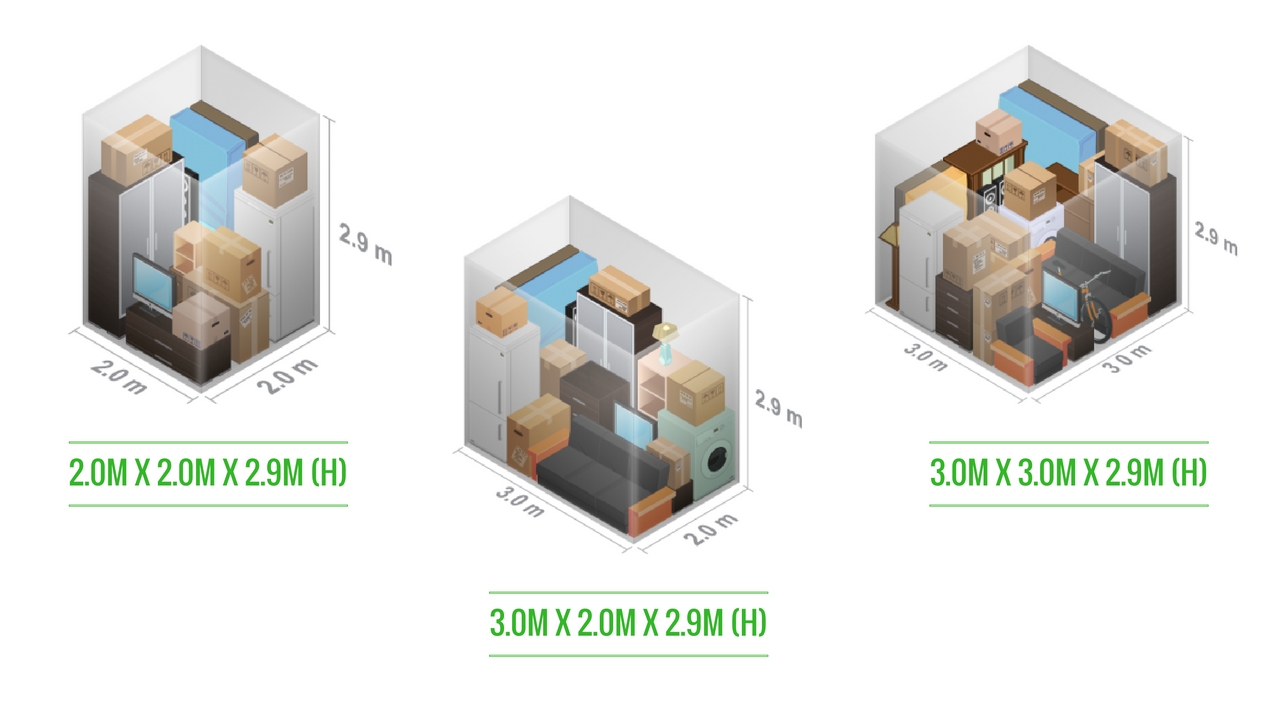 1. 1.5m x 1.5m x 2.9m (H) – This size is ideal for 10 to 20 cartons and to store seasonal items as well as small volumes of document storage.
2. 1.5m x 2.0m x 2.9m (H) – This size will accommodate a few pieces of bigger furniture like a lounge, mattress and also a few cartons. It is popular for storing seasonal items such as, camping gear, sporting equipment and also ideal for business document storage.
3. 1.5m x 3.0m x 2.9m (H) – This size is perfect for de-cluttering your home. It will comfortably hold some furniture, white goods and plenty of cartons. It also gives you lots of room for to store items that need regular access.
4. 3.0m x 2.0m x 2.9m (H) – This size will fit in the contents of a regular one bedroom apartment. Including lounge room furniture, white goods, bedroom furniture and plenty of cartons. This is also a decent size for de-cluttering your home and ideal for businesses that need offsite storage with easy access.
5. 3.0m x 3.0m x 2.9m (H) – Typically, this unit is called a half garage, and will hold the contents of a two bedroom apartment. All your goods including your dining table, white goods, multiple beds, furniture and boxes will fit comfortably. Businesses love this size for storing office furniture and stock for staff that are on the road. These are the best units for office & home furniture self storage.
Medium Sized Self Storage Units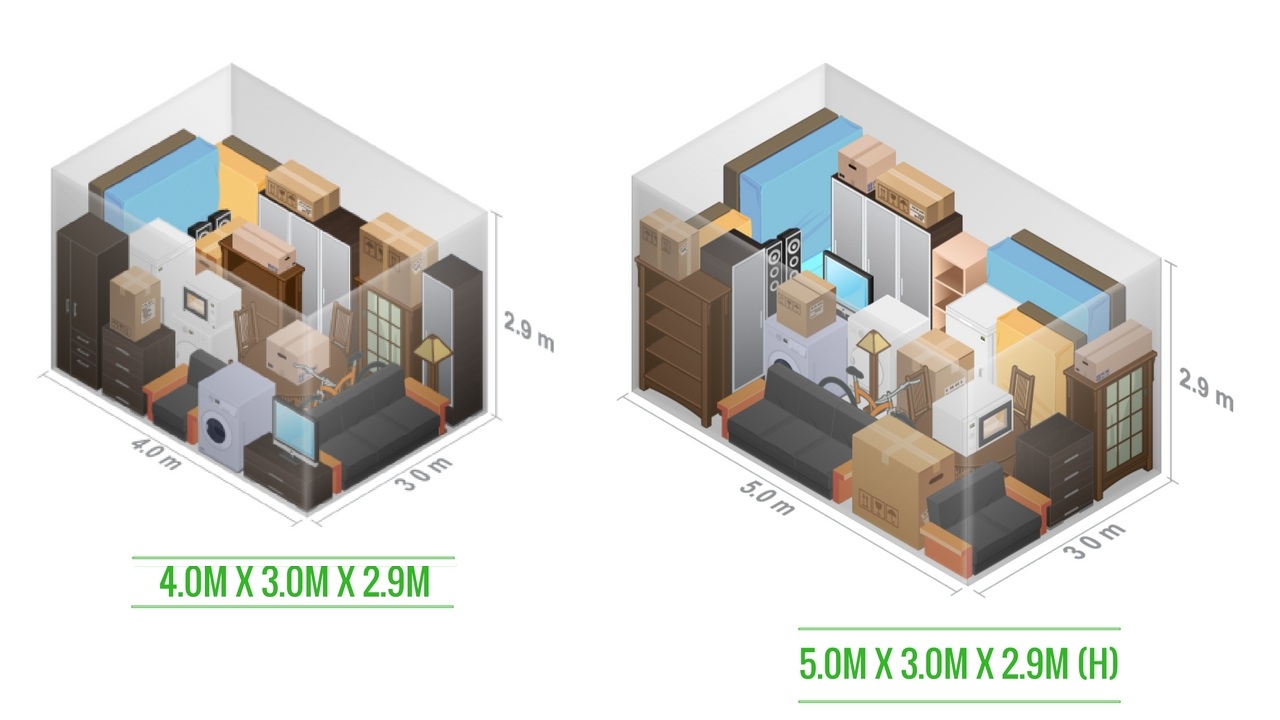 1.   4.0M X 3.0M X 2.9M (H) – This size is ideal for storing the contents of a 3 bedroom home. When packed well, this unit can hold a respectable amount of goods and is most popular for people that are moving house.
2.   5.0m x 3.0m x 2.9m (H) – This size is called a small single car garage. It holds the contents of 3 bedrooms or small 4 bedrooms home and is excellent for keeping big recreational items, small vehicles or trailers.
Large Sized Self Storage Units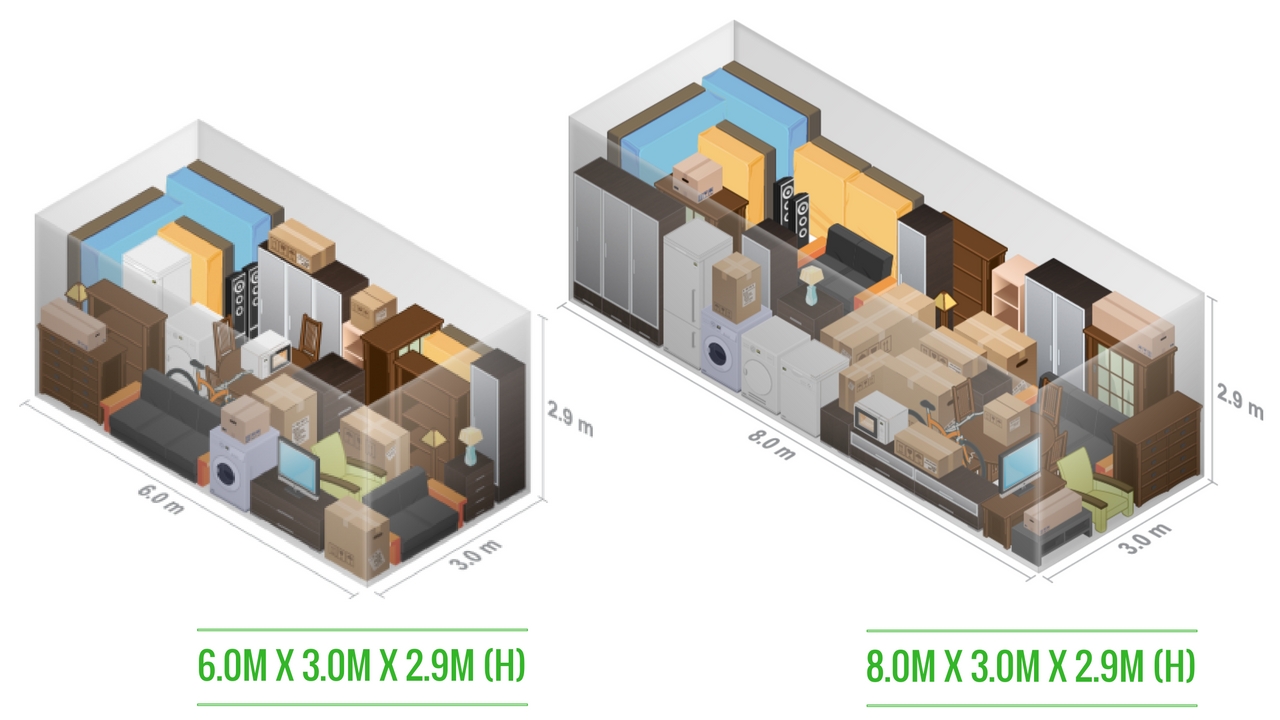 1.  6.0M X 3.0M X 2.9M (H) to 8.0M X 3.0M X 2.9M (H)– These sizes are called a large garage size. They can hold the contents of an average 4 to 6 bedroom house. There is plenty of room to store your vehicle and very popular for businesses that need a large offsite storage option.
Checkout our small to large size storage options here
Container Storage Unit Size
20ft Containers are perfect for both personal storage and business storage. It can comfortably fit the contents of a 2 bedroom apartment. Though, these containers are most popular among tradesman, for storing workshop equipment and commercial goods.

Boat & Caravan Storage Units
If you looking to store a vehicle, caravan or boat, then you can rent self storage units from 5.5m to 10m in length. There are also casual and permanent angled parking bays that are an easy and affordable option throughout our facility.
Wine Storage Unit Sizes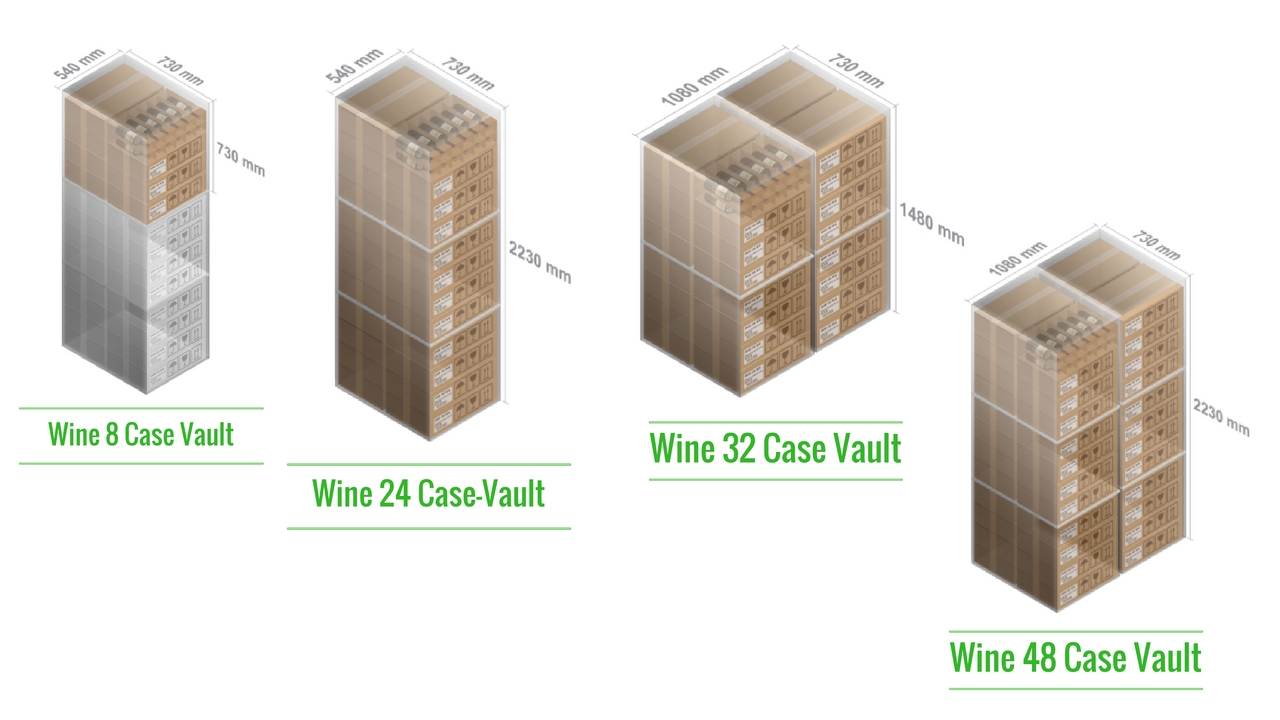 Wine storage is becoming more and more popular these days. Case vaults are available that can hold anywhere from 8 to 48 cases of wine. These wine case vaults are all climate controlled and have ventilation slots to keep a stable temperature. Wine storage rooms are also available for larger amounts of stock.
So, What size do you need?
Knowing what self storage unit size you need will help you save money and unnecessary stress. If you're looking for self storage services in Sydney, get in touch with Hills Self Storage and speak with the friendly staff at any of our facilities, located at Castle Hill, Galston.