Learning while doing it is one of the best ways to understand any subject. And for those who study wine, imagine the fun you could have while starting your own drinking wine cellar.
With a growing collection of wines, you as a wine lover or wine investor might get confused as to what you need to do with your collection. Knowing when the wine will be at its prime is not easy and you if you're thinking of starting a drinking wine cellar, here are some things that you need to know.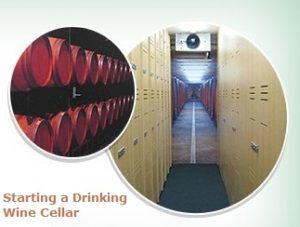 1. Know your priorities
For those setting up a new cellar, one Bordeaux should be stocked. This is mainly because of the relatively cheap availability and also that it offers a good vintage taste. The other wines to try at cellar are Les Hauts de Pontet-Canet(from the left bank), Carillon de L'Angélus and Clos La Gaffeliere (from the right bank).
2. Know how when your wine will mature
All the wines you bought will not mature at the same time. With your own wine cellar, you will be able to drink vintage wines at a much lower cost. Generally speaking, red wine takes more time for ageing than white wine. This is because of the high tannin content and also the color pigments present serves the purpose of natural preservation. Pinot Noir is an exception as it is associated with long-term aging potential. Great Australian Shiraz, which is now available in different fruity styles, is a great option for those who enjoy mid-term aging.
3. Get your taste buds right
For the white wines, Chardonnay is a great option for those who want to age the wine quicker while Clare Valley Rieslings and Hunter Semillons takes longer. Grosset Rieslings are available at as low as $35 and offer good cellaring for those who stress on the aromatic quality of the whites. But if you let go of your budget, German Kabinett is a sophisticated choice giving you the honeyed aromas as well as the mid-term aging making it distinctly different from the other Australian counterparts.
Know the checkpoints
Now here are some checkpoints. If you haven't already drank a wine that was meant to be cellared, let's tell you that about 99% of all wine are not fit to be cellared. Most of the wine is for drinking young and very little quantity of the wine pool is actually fermented to improve on aging. Most of the wineries design the product in such a way that gives the wine a ready-to-drink set-up. Of course, there will come a point that wines might deteriorate if aged.
It's important to get hold of wines that you can stock in your cellar as the whole idea is to stock the best of the wines. Also, ensure that your cellar is nice and dark and has a temperature between 10-15 degrees. Don't forget to store the wine bottles at an angle that increase the life of the wine. We have already talked about how to store wines in your cellar in an earlier post.