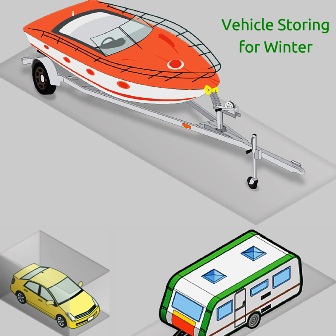 As daylight savings ends the days get shorter and the sun begins to fade. The chances to get out on the bike for a Sunday ride wane and the Boat or Jet Ski sits on the driveway until summer comes around again.
Keep your boat, caravan, bike or vintage car pristine and ready to enjoy for when next summer comes by storing them safely and protecting them from the elements. Self Storage facilities are a great option for any kind of vehicle, they offer lots of storage options and they cost far less than you might think.
Benefits of storing your vehicle for winter:
An expensive boat or Jet-Ski left on the driveway can be tempting for thieves. Storage facilities offer 24/7 security.

Your vehicle can be undercover or have a protective cover so the elements to no rust and fade your vehicle.

Professional storage facilities allow you to arrange minor repairs and servicing on site so your vehicle is ready to run once the sun returns.
Your local Car storage facility will be able to advise you of the best option for your vehicle, whether it is a garage, warehouse or outside and undercover storage. Check for 24/7 security options and clean, ventilated and well protected areas.
Summer will come back around in no time and your boat, car, caravan or motorcycle will be running and ready for your next weekend adventure!