Many a time, in life, circumstances unfold wherein you're on the lookout for a furniture storage facility in your area. It could be to declutter to make your home ready for sale, in between house moves or for some other reason. Either way, it pays to think twice before storing your valuable furniture items in the garage or the shed. To make your task easier, we bring you a comprehensive guide that will cover all aspects of furniture-storage such as:
What should you do before storing your furniture in a self-storage unit?
How should you store your furniture in a self-storage unit?
Smart tips for furniture storage
Before packing your furniture and heading off to your local Self Storage facility in Sydney, make it a point to read this comprehensive storage guide and gain all the valuable information that you need for storing your furniture safely and in top condition.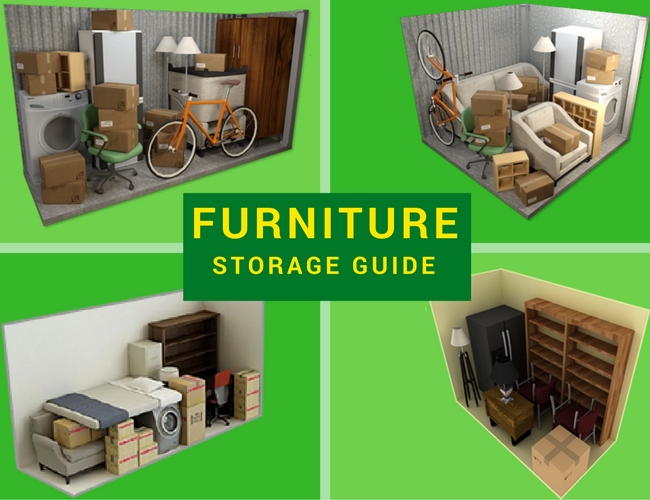 I. Clean Your Furniture Thoroughly before Placing it in a Self-Storage Unit
Wooden furniture and soft furnishings can easily fade, warp and start to grow mould if they aren't stored in a well-ventilated, waterproofed area. This is where a self-storage facility becomes your best option. However, it's vital to clean all your furniture before you pack them and store them in a furniture storage facility. Moreover, using the right cleaning product for the right surface will give your furniture that extra layer of protection.
Bookcases, Dining Sets & Timber Items
Give your timber furniture items much needed tender loving care with the below-listed vital cleaning tips:
Make a cleaning solution: Take 3 litres of warm water and mix half a cup of white vinegar to it. This natural solution is perfect for painted and non-painted surfaces.
With a damp cloth, wipe the surfaces to remove the dust. Remember, too much water can cause your wooden furniture to inflate.
Using a spray, or wax polish on a soft cloth, you can give that original timber shine and protection.
Using an old toothbrush is a great idea to remove the dust from cracks and corners.
Mattresses & Fabric Sofas
Fabric surfaces do collect a lot of dust, so make sure you give your mattresses, sofas and other upholstered items a good vacuum before packing and storing. Some helpful tips are:
Before vacuuming, sprinkle some baking powder evenly over the surface for added freshness.
For tricky spots or spills, prepare this homemade cleaning solution by mixing:

1 Tablespoonful of dishwashing detergent liquid
1 Teaspoonful of white vinegar
1 Teaspoonful of baking soda
A cup of warm water
And pour this mixture into a spray bottle
Lightly spray the solution onto the stains and wipe it with a clean cloth.

If your furniture still has some stubborn stains, try steam cleaning it using a water-based detergent.
Is vodka in your home? Great, it can also work as an excellent cleaning agent. Pour a little vodka into a clean spray bottle. Then spray evenly on your fabric furniture and lightly wipe off with a cloth.
Preparing to Move Your Furniture into the Storage Facility
Moving furniture can be made easier by taking the time to dismantle some furniture items first:
Ensure you have the right tools for the job, such as screwdrivers, spanners and hex keys.
Dismantle the furniture from their connecting points.
Remember to tape up any screws and fasteners, so they aren't lost.
Dismantling big furniture pieces aid in saving precious time and money, as you'll be able to fit more in the car or truck avoiding multiple trips.
Packing Furniture for Safe Storage
Next, you need to figure out the proper method to pack furniture for safe storage at your local self-storage facility. Using the right wrapping and packaging material will keep your goods safe and sound while they are in storage.
If your furniture storage unit has a concrete floor, you can lay down a sheet to further protect your furniture.
Using sheets, blankets or drop cloths will help safeguard the furniture pieces from collecting dust.
Plastic covers are great for mattresses and fabric lounges but aren't recommended for leather items, as they can block ventilation that may induce moisture causing mildew and mould.
How Long Do You Plan to Store?
Do you plan to store your furniture for a couple of years or a couple of months? For long-term storage, your furniture might need to be frequently cleaned. Here are some helpful tips:
Avoid placing heavy items on cushions, as it can permanently affect their shape over time.
Often clean and rotate your mattresses to ensure the coils don't move.
Give your furniture a quick wipe at regular intervals, as dust will collect on your furniture over time.
Corrugated cardboard is ideal for separating stacked chairs.
Moving blankets will keep your dining table's surface safe from dirt and damage.
Plastic covers are fantastic for safeguarding mattresses and non-leather couches.
II. Apply Your TETRIS Skills to Maximise Your Furniture Storage Space
TETRIS is a popular game that you can play on computers, laptops and on smartphones these days. If you have been playing TETRIS on your Smartphone, you can apply the same method when you want to store your furniture in a self-storage unit or when storing it in a truck for the move. If the idea is to think about ways different shapes in the real world can fit together such as the boxes, sofas, chairs, tables etc. Use truck hire facility to move your belongings. In fact, you can use your TETRIS skills quite effectively to store all your belongings efficiently in an orderly way inside a self-storage unit. You need to arrange and place each furniture piece in a way where it takes minimum space and creates support for the next piece to follow smoothly. This method will ensure that your furniture is stored efficiently and securely inside the allotted storage space.
Start with a good solid row across the bottom.
Visualise the different furniture shapes as per TETRIS shapes and how they can be positioned resourcefully inside a self-storage unit.
Indeed, you can implement the same method to efficiently manage any storage space including home storage, closet space, as well as, packing and moving trucks.

Remember to Maximise Your Storage Unit's Space
To get the most out of your furniture storage unit, ensure –
Keeping your most commonly accessed items close to your unit's door.
Placing the large furniture pieces such as bed frames and cabinets towards the back of your storage unit.
Storing your longer items, such as sofas along the side of your unit.
What Are Your Storage Requirements?
Do you want to make more space in your home or office by storing belongings that you don't use regularly? Or
Do you want to store your goods for the short-term because you're shifting between homes?
No matter what your storage requirements are, Hills Self Storage can assist you with its state-of-the-art storage facilities spread across Sydney viz. Castle Hill, Galston and Rouse Hill. In addition, you can easily upsize or downsize self-storage units depending on your changing requirements.
III. Smart Tips for Furniture Storage
Taking out drawers will make your dresser easier to move, but make sure you put them back in when it's in storage.
Dismantle your bed frame, and then cover your mattress and place it on its side when storing while ensuring it's properly ventilated. This will save you lots of space in your storage unit.
If possible, remove the legs from your dining table and wrap the table top with a blanket before placing it on its side against the mattress or wall.
If you don't have the original box for your TV, you can always use a couple of cardboard layers to protect and insulate the screen.
Wrap and cover your items with blankets or sheets to protect them from scratches and marks when moving and storing.
Pop a couple of mothballs and a freshener disc in your soft furnishings to prevent moth-eaten holes and a musty smell.
After you have stored your belongings, make sure you take out insurance for your furniture while they are in storage for complete peace of mind. There are great insurance options available in most storage facilities. Refer to our self-storage insurance page for more details.
Final Words
Gone are the days of dark, wobbly lockups and grumpy storage facility personnel. These days' storing your belongings in the right manner is an art! To get high-quality furniture storage facility in Sydney, visit your local self-storage facility and check out the large range of furniture storage solutions! Established personal self-storage units sometimes also help move your items by arriving at your home with a furniture trailer, helping you to pack, load and move for free!