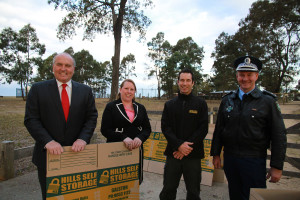 Business and Community Figures Jump On Board for Mayor's Winter Sleepout
Hills businesses and community groups are jumping on board the Mayor's Winter Sleepout.
The team from Hills Self Storage have agreed to supply cardboard boxes to provide a little comfort for participants on the cold night out at Bella Vista Farm Park.
Mayor Byrne said she was pleased to see so many people enthusiastically supporting the initiative.
"This wonderful initiative from the Community Foundation of North Western Sydney has really struck a chord with the Sydney Hills business community," Mayor Byrne said.
"All the money raised will go to supporting crisis accommodation in The Hills and participants have a choice between donating $100 or splashing out $200 which will secure them a bit more comfort in the form of a roof."
"The response has been fantastic and I was particularly touched to hear from a young person who described their own experiences of living on the streets. This young person found permanent accommodation and it makes me more determined to make this event as big as possible.
Mayor Byrne will be joined by Baulkham Hills State MP David Elliott – who is also the NSW Parliamentary Secretary for Homelessness- and The Hills Local Area Commander Rob Critchlow on the night.
"It's a tragedy that in modern Australia we still have up to 100,000 people sleeping rough. As a civilised society our first obligation is to provide every citizen with a home to go to at night," Mr Elliott said.
Superintendent Critchlow said he was happy to represent the NSW Police force on the night.
"NSW Police are obviously concerned about the safety of citizens and people sleeping rough so we will support any initiative that can contribute towards housing people in need of shelter," Superintendent Critchlow said.
Andrew Koorey of Hills Self Storage said that although his boxes weren't designed for sleeping, he hoped they would help on the night.
"It's a fantastic cause and they're great quality boxes so hopefully they will provide some comfort. I can't guarantee they will keep anyone warm though," Mr Koorey said.
Mayor's Winter Sleepout
Where: Bella Vista Farm Park, Elizabeth Macarthur Drive, Bella Vista
When: 5pm, Saturday August 23 – 9am Sunday August 24
Tickets: $100 (without shelter) $200 (with shelter) ALL TICKETS TAX DEDUCTIBLE