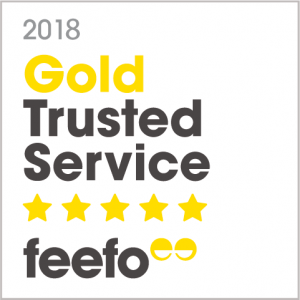 We are very honoured and grateful to affirm that we have won a Feefo Gold Trusted Service Award for our self-storage facilities, as per our customers' ratings. The Feefo Gold Trusted Service award is an autonomous seal of merit that values businesses for rendering outstanding customer experiences, which is decided on the basis of real customer ratings.
All the Feefo awards are entirely based on the interactions with verified customers, and this prestigious Feefo award is known as a "badge of honour" and is a recognition that remains distinctive.
Hills Self Storage has been selected for the most esteemed Feefo Gold Trusted Service award, as between 1st January 2017 and 31st December 2017, acquiring an average Feefo service rating of 5.0 gold stars. We are grateful to all of our customers for leaving such fabulous comments and reviews on our Feefo page, which has helped us to garner this prominent award from Feefo.
Truly, this Feefo award has lifted our spirits higher, and we are eager to carry on providing "excellent self storage units and services" through all our Sydney facilities for wide-ranging storage requirements and ensure we not only fulfil our customers' expectations but also exceed them continually.
Thank you!
About Feefo
Feefo collects real reviews from actual people. Many well-known brands out there including Hills Self Storage entrust Feefo to collect reviews from their customers independently and you can visit our Feefo page here & read reviews as well. Over 4000 industry leaders trust the Feefo platform to connect with their customers, acquire genuine insights to take the most desirable action and steer business to their websites, increasing both customers and business.