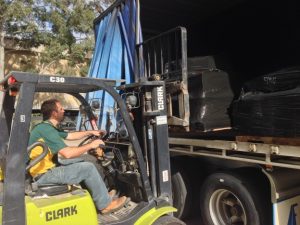 Fast Efficient Unloading of Pallets for Hills Self Storage Business Customers
We get your pallets off fast and efficiently. Most Self Storage facilities make the truck drivers unload pallets from their own truck. This is always risky as all forklifts are different and the driver has to get used to using a different one on your pallets. This is not only slow but also risks damaging goods on pallets with erratic operation. All our staff are fully licensed and experienced operators. We find it quicker, easier and safer for us to do it ourselves. Whether its pallets on a Truck, in a Shipping Container or on the back of a Ute we will load and unload pallets safely. When can then just drop them off in a convenient location for you to then pallet jack around or even drive them straight into your self storage unit for you where possible.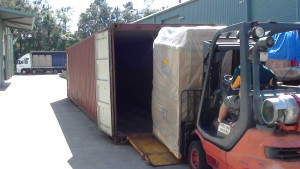 We don't just handle standard pallets either, we have extensions for our forklift to pick up extra long items. We also have plenty of other functions on our forklift to handle heavy items of all different shapes and sizes.
You don't have to be on site either. We can handle it and when it is all done we then send you a SMS letting you know where your goods are stacked. We also have a number of CHEP and LOSCAM pallets for exchange.