Sometimes in life, you may have to move away from home, whether you're on holidays for a couple of months, or relocating due to work. There may be other reasons as well like moving house or needing more space in your garage.
In these situations, you will need to rent a safe self storage unit for your household belongings, including your car, boat or trailer. Read more to learn the different car storage units available.
At our self-storage facilities, we have lots of different options including car storage units, and more:
Outside car parking
Warehouse car storage
Container car storage
Garage car storage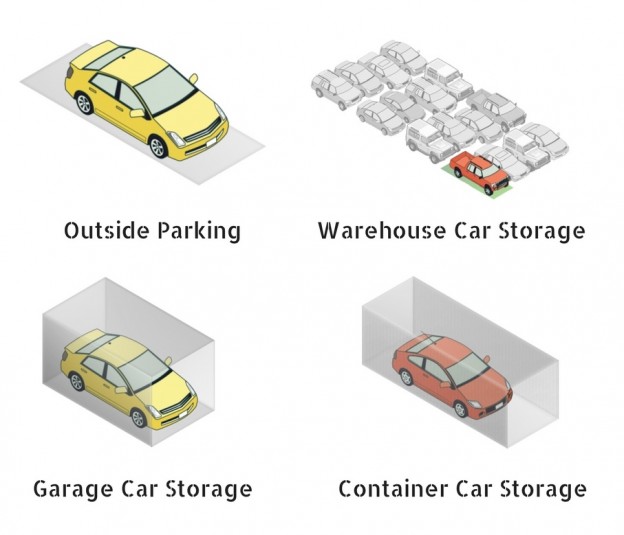 Outside Car Parking
Just as the name suggests, outside car parking is a designated outside parking bay for your car and is the most cost effective option to store your vehicle. It is often used when you don't have enough garage space or you're away from home for a couple of months or more. Of course, make sure you use a suitable car cover that will protect your car from nature's elements.
Warehouse Car Storage
Warehouse car storage is another affordable option and is more secure than outside car parking. It is monitored by camera surveillance and a back to base alarm system. Some self-storage facilities can provide car covers to protect it from dust. Only the self storage staff has access to the warehouse storage facility. So you know your vehicle is getting the best care possible.
Container Car Storage
Container storage options are weatherproof shipping containers that are completely reconditioned to fit your car. Our self storage facility has container ramps, which makes driving the car in and out of the container a breeze. Furthermore, these are protected with your own padlock and only you'll have the keys.
Garage Car Storage
Our garage self storage option for car storage come in different sizes. They are also under camera surveillance and back to base security. Hills Self Storage has three options that are perfect for storing your car. They are:
5.0m x 3.0m x 2.9m (H) – A driveway access garage size unit that can accommodate small to medium cars.
6.0m x 3.0m x 2.9m (H) – A driveway access garage size unit, which can hold medium to large cars.
7.0m x 3.0m x 2.9m (H) – A large driveway access garage unit, which can house a large car and also provide you with adequate space for some other bits and pieces.
Hills Self Storage caters for all storage needs and budgets. You can hire the car storage units for keeping your car safe and protected when you're away from home. Speak to our friendly staff at any of our self storage facilities to find out more.