Yes, at Hills Self Storage we offer traditional self storage and so one would think that we would naturally be biased towards it. But the fact of the matter is that both traditional self storage and mobile storage both have their place in todays market place. Both offer different levels of convenience and price.
In our opinion mobile storage is an easy self storage facility for a simple situation. You know exactly what has to go, you know exactly how much space you need and you don't need regular access. The other main advantage is you do not need to pay a removalist or hire a truck to move your goods.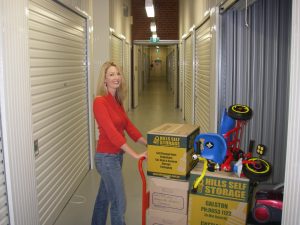 But after over 10 years in the business we find that most situations are never that straight forward. In a lot of cases there is uncertainty of what goes into storage and what does not and with mobile storage you have to get it right the first time. So after you have packed your container and it is taken away there is no just ducking around the corner to your local self storage facility to put in or take out those last few bits and pieces that you either forgot or simply changed your mind on. The warehouses that mobile containers are stored in are usually a fair distance away and access to your container needs to be arranged for a certain time so they can lift it down with a forklift for you to access it.
One of the biggest benefits to traditional self storage over mobile storage is the flexibility in storage space sizes. Most mobile storage companies offer one to two different sizes. So if you need slightly over one container you need to pay for a second despite only using a small amount of the space. With self storage you can book a size that you think may suit but on the day of move in if it looks like you may need something larger or could get away with something smaller then you can usually just upsize or downsize for around $10-$15 per month. With mobile storage although it may not quite be double the cost it would be close too that for another whole container.
In addition to the flexibility in sizes the cost and hassle of moving is usually offset by Free Truck Hire, Free Trailer Hire or Free Move In by a lot of traditional self storage companies.
This article only touches on the difference between the two services but like everything moving and storing is never as straight forward as people expect and that is why we believe traditional self storage still offers the most in flexibility in services and price.